Joined

Jun 30, 2018
Messages

41

Major shifts are, and have been, occurring in the supplement industry. Here's how they could affect your access. Correction (11/28/2022): The infographic below detailing supplement companies owned by larger companies originally indicated Planet Paleo was owned by HGGC, which is incorrect. The...

anh-usa.org
Big Pharma Buying Up Supplement Companies
11/15/2022
Major shifts are, and have been, occurring in the supplement industry. Here's how they could affect your access.
Over the last few decades, mega-corporations have been increasingly investing in the supplement sector—especially during the last few years, which has seen a boom in mergers and acquisitions. Since 2017, over $20 billion has been invested in supplement companies by the likes of Bayer, Nestle, Unilever, Proctor & Gamble, and Clorox. Mergers and acquisitions in the supplement sector
have surged
: in 2018, there were 83 transactions; in 2021, there were 137. It's no secret why large corporations are moving in—the supplement market grew from $28 billion in 2010 to almost $60 billion in 2021.
The bottom line is that many supplement brands you see on store shelves are owned by large corporations that traditionally do not deal in supplements. The question is, what does this mean for our access to quality products that support our health?
First, what is a quality supplement? The quality of ingredients is the first marker of a good supplement. Poor quality supplements do not provide the right forms of bioavailable vitamins. They provide vitamin A as beta carotene instead of broad-spectrum carotenoids; vitamin E as synthetic dl-alpha tocopherol acetate instead of mixed tocopherols and tocotrienols; folic acid instead of folate; magnesium oxide rather than magnesium glycinate, taurate, malate, or chloride; ubiquinol instead of CoQ10. They can contain other ingredients like additives and fillers that some consumers will want to avoid. Not only are the ingredients of lower quality, they are less potent. Pfizer's
Centrum Silver multivitamin
, for example, provides only 60 mg of vitamin C, 3 mg of vitamin B6, 50 mg of magnesium, and 19 mcg of selenium. Higher quality supplement brands sell products with higher nutrient levels. Instead of 60 mg of vitamin C, some brands have 500 mg, and over 30 mg of vitamin B6 instead of just 3 mg.
Companies investing in the supplement space are almost universally known for their products in other industries. Bayer is a pharmaceutical and biotech company—you may remember that
they acquired Monsanto
, the maker of glyphosate. Unilever is known for beauty and personal care products like Dove and Axe body spray. Nestle is a food company known for chocolate and sweets. Proctor & Gamble owns brands like Tide, Downy, Charmin, Head & Shoulders, Crest, and many, many more.
Nestle Health Science, a division of Nestle, bought Pure Encapsulations and Douglas Foods, along with a host of other supplement companies, including Garden of Life, Vital Proteins, Nuun, Wobenzym, Persona Nutrition, Genestra, Orthica, Minami, AOV, Klean Athlete and Bountiful. Bountiful itself owns Solgar, Osteo Bi-Flex, Puritan's Pride, Ester-C and Sundown, which are now all under Nestle's control.
Otsuka, a pharmaceutical company, owns MegaFood and Innate Therapeutics; Schwabe, another pharmaceutical company, owns Integrative Therapeutics, Nature's Way, and Enzymatic Therapy. Unilever owns Onnit, OLLY, Equilibra and Liquid I.V., and SmartyPants Vitamins. Wall Street is also getting in on the action, with private equity groups purchasing brands like Nutraceutical and Metagenics.
A number of these brands are not the high-quality supplements sought after by savvy natural health consumers. OLLY, bought by Uniliver, produces gummies that
contain
added sugar and additional added ingredients like natural flavors. Nuun, a vitamin and hydration company, uses inferior forms of vitamins (folic acid and magnesium oxide) in their products. SmartyPants Vitamins is another company specializing in gummies that
includes 7 grams of added sugar
per serving.
We also know that Nestle is
developing its own line
of enteral nutrition products. They have bought medications for the treatment of Exocrine Pancreatic Insufficiency due to cystic fibrosis, chronic pancreatitis and other conditions.
Several of these brands are higher quality supplement companies, such as Pure Encapsulations, Douglas Laboratories, MegaFood, and Metagenics. What will happen to them now that they are owned by mega-corporations that have not historically had core natural health principles as the foundation of their businesses? We've spoken to several of the largest and highest quality brands that have not been purchased; they have confirmed that larger companies have made several unsuccessful attempts to purchase them.
Here is a more detailed account of who owns what in the supplement space: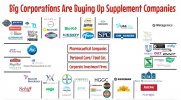 Suffice it to say, mega-corporations are increasingly expanding into the supplement space, probably because, aside from the reasons already mentioned, the
supplement market is enormous and continues to grow
. In 2021, the US supplement market was worth $48.4 billion, and it is expected to expand at a compound annual growth rate of 8.9 percent. Where there's money to be made, big players will want to cash in...